Anne Boleyn Ghost
Few British phantoms that are reported to haunt as many different locations as the Anne Boleyn ghost. London, Kent and Norfolk all have places where she has reputedly been seen.
Anne Boleyn, Tower of London
Artist - Edouard Cibot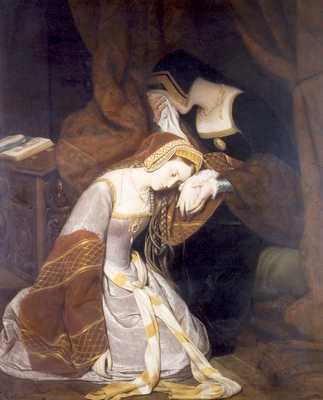 London
Tower of London
Most famously, Anne is one of the many Tower of London ghosts. Her wraith has been seen near the King's House and on Tower Green.
In 1933 a guard challenged the spectre of a female, presumably the Anne Boleyn ghost. When he received no response, he lunged at her with his bayonet. The bayonet went straight through the wraith, striking the wall behind her. The guard deserted his post and ran. A very similar thing happened in 1864 but then the soldier fainted and he was court marshalled for being asleep on duty. Fortunately, there were witnesses to corroborate his story and he was acquitted.
Another of Anne's 'haunts' within the Tower, is near the White Tower where the scaffold was erected upon which she was executed. She did not beheaded in in normal manner, kneeling with her head upon the block and by the headsman's axe. She died kneeling erect and her head was severed in one swift blow by a swordsman brought over from France.

St. Peter ad Vincula
Anne's body was left, unattended, on the scaffold for some time. Until someone working at the Tower placed her in an empty arrow box. She was then buried, in an unmarked grave, inside the church of St. Peter ad Vincula which stands within the grounds of the Tower. But she doesn't rest easy.
One night, a Tower of London warden was patrolling outside when he noticed that the windows of the Chapel were illuminated. He climbed a ladder and looked inside. To his amazement he saw a procession led by a woman who reminded him of paintings that he had seen of Anne Boleyn
Ghosts resplendent in clothes that would have been worn in the Tudor court were slowly following her up the aisle. After a few minutes, the figures slowly faded from sight and darkness once again descended on the church.
Kent
Hever Castle, Kent
Although is not known for certain, Hever Castle was probably where Anne Boleyn was born. What is known is that it was here that she met Henry VIII, the King she loved and married, to whom she bore a daughter and by whom she was betrayed and executed.
Anne has been seen on many occasions in various places in the garden. Her favourite haunts seem to be the old wooden bridge over the River Eden and the area of the great oak tree beneath the boughs of which King Henry VIII courted her.
Maybe she doesn't want to 'move on' because of the happy memories she has about the place. Or maybe she is unable to find rest because of the haunted castles large collection of mementoes associated with her.
Norfolk
Legend of Blickling Hall, Norfolk
There is one further story associated with the appearance of the Anne Boleyn ghost at another location that claims to be the place of her birth. The legend is that every year, on the anniversary of her death on 19th May 1536, at Blicking Hall, is seen a black coach drawn by four black, headless horses. And in the coach sits Anne Boleyn with her head in her lap.
---

Return from Anne Boleyn Ghost to Famous Hauntings