A River Thames Ghost or Two!
Although it is 215 miles long, most River Thames ghosts are to be found around the comparatively short stretch of river that flows through central London.
Two of the phantoms listed here are directly related to historical events. One of the hauntings was reported in the media as it unfolded.
And sadly, there is an unknown suicide, who reminds us of the approximately 70 people who, every year, tragically choose to end their lives in the river's murky embrace.
---
Blackwall Tunnel - Phantom Hitchhiker
The Blackwall tunnel was built in Victorian times to carry a road beneath the River Thames between Greenwich and Tower Hamlets.
In 1972, a motorcyclist stopped to pick up a boy who he saw hitchhiking at the southern end of this tunnel. The boy gave the man the address he wanted to get to and climbed up behind the rider. However, when the motorcyclist left the tunnel at the northern end, he found that his passenger was missing. The man was obviously very alarmed and turned his bike around to search for him but without success.
Later, he went to the address he had been given and was told that a young boy answering the description of the lad he had seen had indeed lived at the address but that he had been killed in a traffic accident some years before.
This River Thames ghost is not the only spectre of this sort to be found in Britain. Another Phantom Hitchhiker has been seen in Bedfordshire
---
Jubilee Gardens - Thames Angel
Now I admit that a Thames Angel is a totally different phenomena to a River Thames ghost. However, there does appear to be some 'overlap' between the various paranormal phenomena. I had never heard of it when I started researching London ghosts but it is an intriguing story.
There are some who say that the story was made up by a children's charity in connection with a publicity campaign. Then there are those who claim that the 'angel' is genuine as is apparent in the first Thames Angel site. The second link is to a "fan club" dedicated to the 'heavenly messenger'.
---
Old London Bridge - Phantom Cries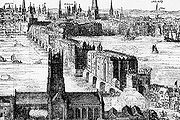 In the 13th century, the Jews of London were terribly persecuted. Indeed, in 1290, all Jews in England were expelled from the country. Many of them made their way to Poland. They could take with them only those of their possessions that they could carry.
It is thought by many that the cries and screams the are heard coming from the Thames at the site of the Old London Bridge, belong to Jews who were on a ship that sank at that spot as they were being forcibly removed.
Personally, I wonder if these River Thames ghostly cries could belong to the souls of the hundreds of executed 'traitors' whose severed heads were dipped in tar and displayed on pikes on the old bridge between 1305 and 1660, when the gruesome practice ceased.
---

Cleopatra's Needle - Phantom Suicide
This 3,500 year old, 68 foot tall monument, which has absolutely no connection to Cleopatra, was a gift to the British Government from the people of Egypt in 1819 to commemorate the victory of Admiral Nelson at the Battle of the Nile.
There were severe difficulties transporting the obelisk and several sailors were drowned during its journey. It was not until 1878 that the monument was finally erected on the Thames Embankment.

Mocking laughter can sometimes be heard from the area around the stone obelisk as well as unearthly screams. Whether these belong to the lost sailors is not known.
Another River Thames ghost seen here is a ghostly naked man who has been seen dashing from behind the monument and jumping into the cold water which accepts him without the faintest ripple. Strangely, Cleopatra's Needle does seem to be a magnet for those suicides intent on drowning themselves in the River.
It is interesting to note that the two sphinxes at the base of the pillar actually face the wrong way as Queen Victoria thought this was more aesthetically pleasing. When the column was erected, a 'time capsule' was buried underneath. It contained a bizarre assortment of objects including a gentleman's razor, a box of cigars and pictures of female Victorian 'pin-ups'.
---
London Bridge - General Paranormal Activity
This River Thames ghostly haunting was reported in November 2007 as events unfolded by the BBC no less. The story was later picked up by other news media.
A number of skeletons had been found in a sealed vault under London Bridge by men excavating the site for the forthcoming London Bridge Experience. Nothing unusual in that, bodies are quite often discovered during excavations.
What is odd though is that the discovery seems to have stirred up paranormal activity. After the bones were found, light bulbs would blow despite electricians being unable to find any fault. And tools of every shape and size, including a power drill, would disappear. The workmen took to working in pairs as they felt that they were being watched.
---
Execution Dock - Captain Kidd's ghost
One of the few River Thames ghosts for whom we have a name. William Kidd, better known as Captain Kidd was charged with five counts of piracy and one of murder. He was not allowed to defend himself nor to have anyone defend him. He was also not allowed to call any witnesses. And to top it all, the passes that might have proved that he was not guilty of piracy were never produced as evidence in the trial but turned up 219 years later at the Public Record Office.
After the verdict of 'guilty' was pronounced, Captain Kidd said, "I am the innocentest person of them all. Only I have been sworn against by perjured persons."
He may have been telling the truth. Maybe it is because he believed that he was an innocent man who had been wrongly convicted or maybe it was the circumstances surrounding his public execution at Execution Dock, that explains why as you can read here, Captain Kidd's spectre is one of the River Thames ghosts that can be seen at Wapping.
---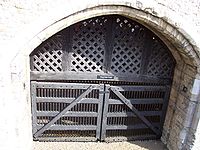 Traitor's Gate - Tudor ghosts
This could be another River Thames ghost for which we have a possible identity. Traitor's gate was the water-gate through which high-ranking prisoners entered the Tower of London. Prisoners such as the wives of Henry VIII, Anne Boleyn, Catherine Howard. It is possibly one of these two spectral ladies who a businessman saw as he was passing early one morning in the late 70's.
For some time he watched a group of people in Tudor clothes get out of a boat at the Gate. He saw Yeomen warders with spears who appeared to be escorting two women, one of whom was dressed all in black with a pearl necklace and who carried a small black book. Also in the party was a man in black leather carrying an axe. The man thought that a film was being made but was informed that no filming was taking place that day.
An American tourist also took a photograph at the spot which, when developed, clearly showed a hand with a lace cuff on the railings in the, at that time, deserted Traitor's Gate.
These links will take you to other Tower of London ghosts and appearances by the phantom of Anne Boleyn.
---
Wapping Old Steps - Hanging Judge Jeffreys
River Thames ghosts are not usually witnessed by Police but the Thames Police are based on the river at Wapping. So maybe that is why the ghost of Judge Jeffreys (1645 - 1689), has been spotted by the River Police, standing on Wapping Steps, that lead down to the river near the Town of Ramsgate, said to be the oldest pub on the Thames. It was here that he was arrested in 1688 as he tried to escape abroad in disguise.
George Jeffreys was known as the 'Hanging Judge' for good reason. In his capacity as judge, he had put to death over 300 of the supporters of the Duke of Monmouth who were brought before him for trial during the English Civil War.
He was probably fortunate to have died of natural causes in the Tower of London as, had he lived, his fate would have probably been very unpleasant.
---



Return from River Thames Ghosts to Real British Ghosts