Haunted Castles in Britain
Picture by Karpati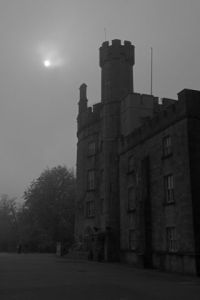 The idea of real haunted castles is familiar to us through film and literature. But it is not only in fiction that castles have ghosts. It is not really surprising that this should be so considering the bloody history of many of them.
Rape, torture and murder were common occurrences and many dungeons contained an 'oubliette' into which prisoners were thrown without food or water and simply forgotten.
Although many haunted castles may now welcome visitors in order to pay the bills, this has done very little to wipe out the psychic memory of the injustices committed within their walls.
---
Amberley Castle, Near Arundel, West Sussex
Although it is called a castle and looks like one, Amberley Castle is actually a medieval fortified manor house. It has been host to Elizabeth I, Elizabeth II and Charles II.
This haunted castles ghost is 'Emily', a tragic servant girl who is sensed rather than seen around the Herstmonceux room. She was seduced by a Bishop who resided in the house. She became pregnant and was then rejected by her lover. This was too much for her and she climbed to the top of the battlements from where she leapt to her death.
Amberley Castle is now a hotel but they make no mention of the fact in their literature. If you are looking for somewhere haunted to stay then check out the Haunted Hotels page.
---
Carlisle Castle, Cumbria
Carlisle Castle is haunted by the ghost of a woman. In 1823 a soldier saw and challenged her. When she failed to stop, he lunged at her with his bayonet . When the bayonet went through her and struck the wall behind, he collapsed with freight and died of shock shortly after. A woman's skeleton wearing a Scottish tartan and holding the skeleton of a small child was discovered bricked up in the Captain's Tower in 1820.
In 1992, movement sensors outside the gift shop were triggered three nights in a row by something invisible.
Carlisle Castle website
---
Castle of Mey (Barrogill Castle), Scotland
Haunted castles don't come much more modern than this. The Castle of Mey or, as it was originally known, Barrogill Castle is not a medieval fortification but was built in the 16th century by George Sinclair, the 4th Earl of Caithness. It is the daughter of his son, the 5th Earl, who haunts the castle.
The story goes that Elizabeth Sinclair fell in love with a ploughman who worked on a local farm. Her father was horrified that she should consort with a 'commoner'. So he imprisoned her in a room at the top of the castle's tower to prevent her from seeing him.
Some people say that one day she leaned too far out of a window to try and catch a glimpse of her lover working in the fields and that she fell to her death. Others say that she was so unhappy that she threw herself from the tower window.
Whatever the truth is about her demise, today the so-called 'Green Lady' can sometimes be seen sadly drifting around the Castle of Mey. The place that she is most often observed is the tower room in which the lovelorn girl was imprisoned.

---
Chillingham Castle, Northumberland
There are quite a number of Chillingham Castle ghosts which you can read about. Given the bloody history of the place, it is surprising that are not more and scarier spectres.
Quite close to the Castle can be found Chillingham Park, home to the famous herd of wild cattle, only survivors of the many herds that once roamed free across Britain.
---
Glamis Castle, Scotland
What with the legends of its 'monster' and 'secret room'. Glamis must the the most famous haunted castle in Scotland.
The family chapel and the Clock Tower are haunted by a 'Grey Lady' who is supposed to be Lady Janet Douglas who was burnt at the stake in 1537 on trumped-up charges of plotting to poison King Henry VIII.
Glamis Castle is also haunted by a woman who had her tongue cut out. She is seen running through the park pointing to her mutilated face. A small Negro boy is seen on a stone seat by the Queen's bedroom.
And Alexander, Earl Crawford is said to wander around the castle. Children sleeping in the castle have woken to find him leaning over them.
Glamis Castle website
---
Hever Castle, Kent
Although is not known for certain, Hever Castle was probably where Anne Boleyn was born. What is known is that it was here that she met Henry VIII, the King she loved and married, to whom she bore a daughter and by whom she was betrayed and executed.
Anne has been seen on many occasions in various places in the garden. Her favourite haunts seem to be the old wooden bridge over the River Eden and the area of the great oak tree beneath the boughs of which King Henry VIII courted her.
Maybe she doesn't want to 'move on' because of the happy memories she has about with the place. Or maybe she is unable to find rest because of the haunted castles large collection of mementoes associated with her.
Anne's ghost can also be found in the church of St Peter ad Vincula and Blickling Hall.
Hever Castle website
---
Lancaster Castle, Lancashire
There have been reports of a child being seen and heard running around parts of the castle. Visitors to Lancaster Castle often tell staff that they have felt that they have been pushed by some invisible entity. So hold on tight to the hand rail!
The castle was for many years used as a gaol or prison and it was here that the unfortunate women known as the Pendle Witches were held prior to their trial and where they were publicly hanged. However, there are no reports of their ghosts having being seen here.
Lancaster Castle website
---
Tower of London, London
For over 900 years, there have been reports of ghostly goings-on at the Tower of London. The headless ghost of Anne Boleyn is so famous that it inspired a music-hall song. However, no-one sings about the botched execution of the 8th Countess of Salisbury, which is annually re-enacted in all its gory detail.
Specters are often associated with murder and mayhem so, given the bloody history of the place, it would be surprising if the Tower didn't have a spook or two.
---
Rochester Castle, Kent
Rochester Castle is haunted by Lady Blanche de Warren who has been observed walking the battlements. Protruding from her chest can still be seen the arrow with which she was accidentally killed by her betrothed at Easter in 1264. The arrow was fired by him in an attempt to protect her from the unwanted attentions of a man. Tragically, the arrow bounced off the armour of its intended target and went straight through her heart, killing her instantly.
The ghost of a man, thought to be the writer Charles Dickens, has been seen near the Old Burial Ground in the haunted castles moat. If it is him then it would make sense as Dickens loved Rochester and expressed a wish that he should be buried there. Alas, he is interred in Westminster Abbey as this was considered the only place suitable for such a great author.
Rochester Castle website
---
Windsor Castle, Berkshire
Britain's haunted castles come in all shapes and sizes. However, you wont find a castle anywhere in Europe that is bigger than this. And if that is not enough, the Windsor Castle ghosts are probably more numerous and have a higher pedigree than spectres to be found in any other haunted building in Britain. In sheer numbers, they even out-do the many Tower of London ghosts.

---